Frequently asked questions: find out answers about Sheraton Paris Airport Hotel & Conference Centre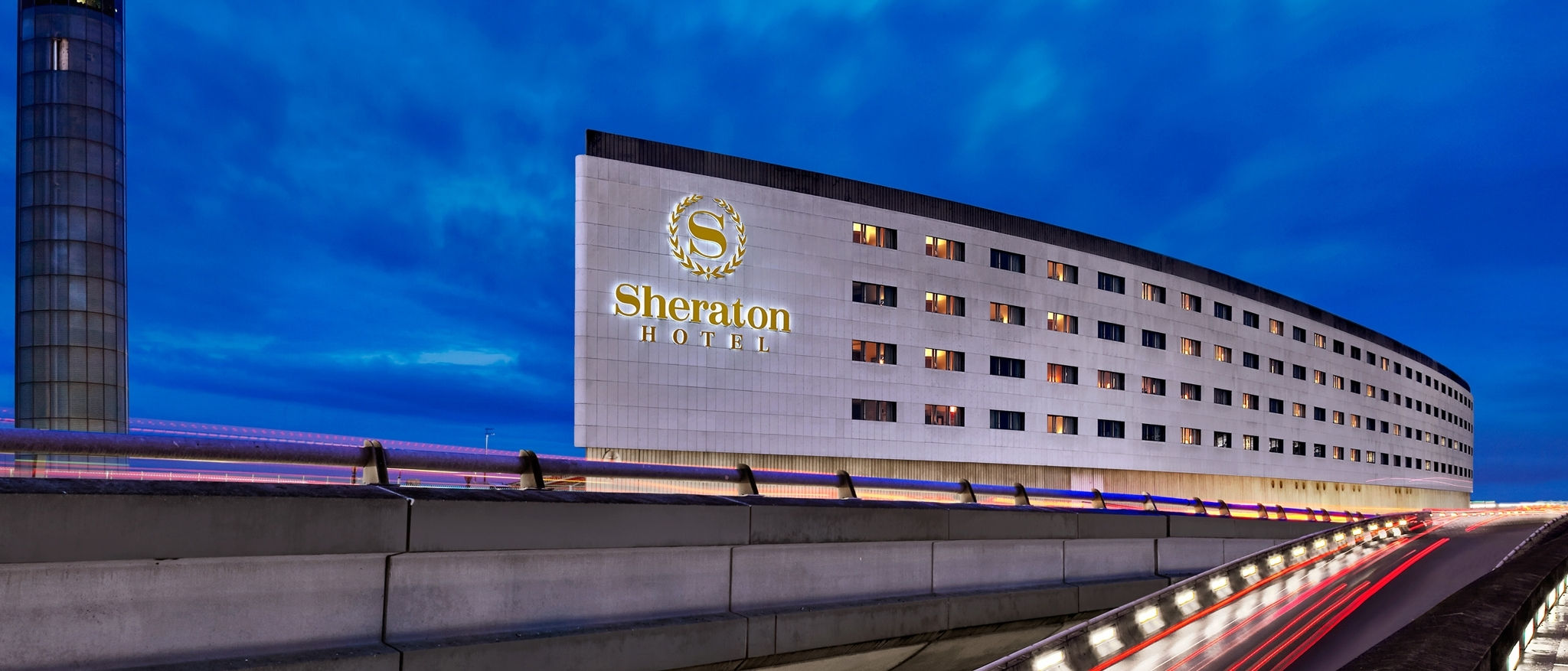 Do you have parking facilities?
A covered parking is at your disposal. Parking is free for up to 25 minutes, € 4 for 30 minutes and € 2 per additional 15 minutes; €59 for 24h.
How can I book a conference room/meeting room?
Sheraton Paris Airport Hotel & Conference Centre is the perfect venue for a business meeting.
It is possible to book a meeting room by phone: +33 (0)1 49 19 70 91 or by email : resevents.paris@sheraton.com.
Check the hotel's meeting rooms.
How do you get to the hotel?
What type of breakfast do you propose? Can I organise a business breakfast?
We propose a buffet breakfast at our restaurant "Les Saisons", as well as three in-room breakfasts of your choice: American, Continental and Health breakfast.
Business breakfast can be organized in our restaurant or in a meeting room.
At what time is Check-in / Check-out?

Check-in time is 1pm. Check-out time is 12am.
Can a third person sleep in the room? Can we add an extra-bed? Do you have children's cot?
A third person can sleep in the room: extra beds are available but need to be requested in advance. As we have a limited number of rollaways, they are not guaranteed upon arrival. Extra bed is charged €79 per night.
Children 12 and under sleep free in existing room bedding.
Cribs are provided upon request and are free of charge. Hotel does not provide blankets, bumpers or pillows with our crib, guests must bring their own.
Is there a fitness centre / sauna / spa in the hotel ?

Our Sheraton Fitness centre is at your disposal 24-hour, as well as our sauna (free of charge). Our Kitao well-being space is located on the 4th floor of the hotel to make you enjoy massages and beauty cares.
What type of internet access do you propose? How much does it cost?

At the Business Center, located in the hotel lobby, guests can enjoy 45 minutes per day of free internet access.
High Speed Internet Access and Wireless are available in all rooms and suites and in public areas for €19 per day.
Guests staying in Club rooms and suites can enjoy free internet access in the Club Lounge.
Where can I withdraw money ?
There is an ATM just outside of the hotel (HSBC).
Is it possible to exchange money at the hotel ?
Yes, please ask the concierge for more information.
Who can I send a job application to?
Please send your application to:
Sheraton Paris Airport Hotel & Conference Centre
Ressources Humaines
Aérogare Charles de Gaulle 2
BP 30051
95716 Roissy Aérogare
Where can I eat in the hotel? And where can I eat during meetings?
Sheraton Paris Airport Hotel features two restaurants: Les Saisons, and the gourmet restaurant Les Etoiles. You can also eat at our Galaxy Bar.
During meetings, our two restaurants are at your disposal; we also propose meal trays or finger buffet if you prefer staying in our Conference Centre.
Are pets allowed at Sheraton Paris Airport Hotel?

Yes, pets are allowed in the hotel for an additional charge of €65 per pet.
Can you send mail/parcels?
Yes, our concierges will take care of sending your mail and parcels.
How can I handle the assumption of costs?
Third Party Credit Card - A non-guest wishing to pay for a guest in the hotel must fax a credit card authorization form provided by the hotel prior to the guest's arrival. Please specify which charges can be charged to the credit card. For confidentiality and security purposes, this document must be faxed to (33)(1) 49197473.
Do you have specific services for children?
Our restaurant Les Saisons proposes a special menu for children.
Babysitting services can be arranged through the concierge department with 24-hour advance notice.
Which are the different TV channels available? Do you have DVD players in room?

The TV channels available at the hotel are RTL, DSF, BBC, Euro News, Euro sport, SPG TV, CNBC Europe, TV5 Monde, Sky news, CNN int, Unicef, DW, H6, R3, NASM UK.
We don't have any DVD players but we have video on demand.
Is it possible to book a shuttle/ car at our arrival (train station or airport)?

The hotel proposes a shuttle to our individual clients as well as a car and limo rental service via our concierges.